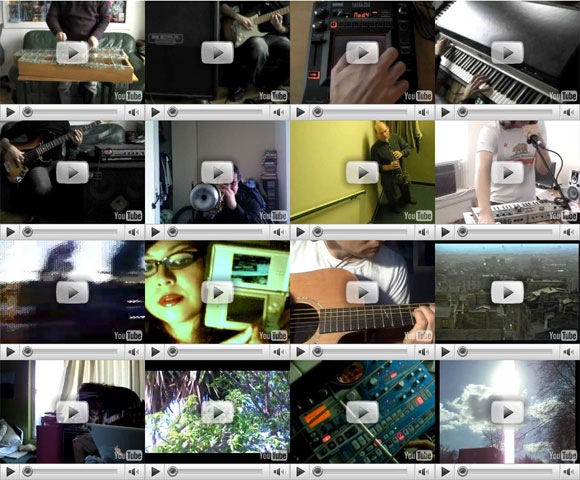 Some good collaborative video examples.
One Frame of Fame
C-Mon & Kypski have turned to the web to help make the music video for their song "More is Less." At the time of writing, 19,618 people have already collaborated on the project, with the video updated every hour over on the
One Frame Of Fame
site.
The Johnny Cash Project
Described as a unique, global, communal work of art, the Johnny Cash Project is an amazing tribute to the man in black. It's painstakingly creating a frame-by-frame music video for Cash's "Ain't No Grave" in fan still drawings. You still have time to participate in the project, or you can just head over to the
site
to see how the video looks so far — pretty good, in our humble opinion.
Eric Whitacre's Virtual Choir
Eric Whitacre's Virtual Choir first made headlines with "
Lux Arumque
," and has continued the collaboration with "Sleep." Whitacre (and partner Scott Haines) recruited singers using his blog,
Facebook
and YouTube, surely making this the most social choir in the world.
The Eternal Moonwalk
The Eternal Moonwalk site may no longer be accepting submissions, but it's still available online. There, you can see all the clips people submitted to create an "eternal" moonwalk in tribute to MJ.
Genero
Genero is like a match-making service for musicians and creative types. For bands, it's a new way to connect with fans and get cool music videos made. For video creators, it's a way of getting exposure for their work with the chance to win prizes.
Big names who have recently submitted their music include Moby, whose song "Wait for Me" saw over 400 fan-made video creations. You can browse the site to see the submissions. The many different interpretations of one song make for fascinating viewing.
SOURCE: http://mashable.com/2010/07/25/crowdsourced-music-videos/
WRITTEN : July 25, 2010 by Amy-Mae Elliott
SOUR VIDEO
This music video was shot for Sour's 'Hibi no Neiro' (Tone of everyday) from their first mini album 'Water Flavor EP'. The cast were selected from the actual Sour fan base, from many countries around the world. Each person and scene was filmed purely via webcam.
Director: Masashi Kawamura + Hal Kirkland + Magico Nakamura + Masayoshi Nakamura
SOUR official site: http://sour-web.com
2009 Zealot Co.,ltd / Neutral Nine Records
SOURCE: Youtube